President & CTO 
Biography
Dr. V. (Anthony) Ananthanarayanan
President and Chief Technical Officer
Dr. Anthony received a Ph.D. in Welding Engineering with a minor in Non-Destructive Testing and M.S. degree in Metallurgical Engineering from The Ohio State University, Columbus, Ohio. He also received a B.Tech. degree in Metallurgy from the Indian Institute of Technology, Madras (Chennai), India. He received numerous awards during his service in the auto industry, including having been formerly certified by the American Society for Non-destructive testing as an NDT level III in ultrasonics and radiography (1987-1997). Dr. Anthony has nearly 20 years of welding experience in the large volume automotive industry working for the General Motors Corporation and Delphi Corporation (1988 to 2007). His last position with Delphi Corporation was as Delphi's Technical Fellow: welding, managing the corporate weld laboratory and international teams that standardized the lean weld equipment design and practice.
Dr. Anthony has authored 25 patents issued by the U.S. Patent and Trademark Office. Significant among these inventions are those relating to the Deformation Resistance Welding of Tubular Joints, based on which Delphi Corporation recently spun off a new company called SpaceForm Inc.
Dr. Anthony has numerous publications and has been invited to speak in a number of conferences around the world. He has been active with the American Welding Society, having been Chairman of the A10 Committee on "Sensors for Resistance Welding" and a member of the AWS Technical Activities Committee.
You may find more detailed information about Dr. Anthony's exemplary qualifications and continual strive for excellence in his resume and curriculum vitae.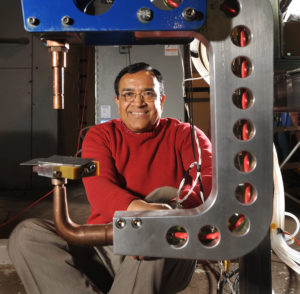 Distinguished Alumnus Award from The Ohio State University
Outstanding Engineer Award from the Engineering Science Foundation and Affiliated Societies Council of Dayton, Ohio
Citation as a leading scientist in the State of Ohio from the Ohio Senate
President's award for intellectual property excellence and induction into the Delphi Innovation Hall of Fame
Come visit us at our partner company in Detroit, MI and evaluate free weld samples!
Schedule Your Visit